A Career in Fiction Writing
Biography
When Chitra Banerjee Divakaruni immigrated to Dayton, Ohio in 1976 from her home in Kolkata, India, she was a nineteen year-old coming to study English as a graduate student at Wright State University. She stayed with her brother in Dayton until her marriage to Murthy Divakaruni in 1979. Chitra then went on to the University of California, Berkeley to do a dissertation on Christopher Marlowe and funded her PhD studies by taking on jobs such as a babysitting, bakery worker, dining hall attendant, and working in stores.
Divakaruni became a writer after the death of her grandfather, trying to record memories she was afraid were becoming too blurry. Divakaruni started out writing poetry before transitioning to fiction; she is now an award-winning author, poet, and teacher. Her writing revolves around the themes of women, immigration, the South Asian experience in the United States, history, myth, magical realism, and cultural diversity.
Chitra Divakaruni writes for adults and children. She currently teaches Creative Writing at the University of Houston.
Fiction
Arranged Marriage: Stories (1995)
Arranged Marriage is a collection of eleven short stories about South-Asian women and their experiences in India and the United States. The women in these stories face change and the promising yet terrifying experience of immigration to a completely different world. The short stories "Clothes" and "Doors" were Divakaruni's first prose publications; they were published by Home to Stay: Asian American Women's Fiction in 1990. The short story, "The Bats" was published in Zyzzyva in 1993. These short story publications helped Divakaruni in shifting her career from poetry to narrative fiction writing.
"Clothes" is the story of Sumita who is widowed in the United States and must decide whether she wants to live with her in-laws without any independence or go back to India. "Doors" is about a woman named Preeti who is comfortable with the Western idea of privacy, while her husband's cousin—who comes to stay with them—fails to understand that such a thing exists. "The Bats" deals with the issue of domestic violence, while the other stories explore subjects of racism, interracial relationships, divorce, family building, and socio-economic differences. The short stories are a true exploration of all the issues surrounding the Indian immigrant communities and a gateway into stories that will come later. Arranged Marriage went on to become a bestseller and was adopted as a text in many colleges.
Other stories included in this collection are: "Silver Pavements, Golden Roofs," "The Word Love," "A Perfect Life," "The Maid Servant's Story," "The Disappearance," "The Ultrasound," "Affair," and "Meeting Mrinal."
Awards:
American Book Award (1996)
PEN Oakland/Josephine Miles Award (1996)
Bay Area Book Reviewers Award, Best Fiction (1996)
Reviews:
"As irresistible as the impulse which leads her characters to surface to maturity, raising their heads above floods of silver ignorance" (The New York Times Book Review)
"Beautifully told stories of transformed lives…Both liberated and trapped by cultural changes on both sides of the ocean, these women struggle fiercely to carve out an identity of their own." (San Francisco Chronicle)
"Indian-born girls and women who are torn between two cultures receive a fine collection of stories which examine women's independence and roles under India's social constraints. These are excellent, hard-hitting stories which are revealing and engrossing." (Midwest Book Review).
The Mistress of Spices (1997)
Chitra Divakaruni's first novel, The Mistress of Spices follows the explorations of Tilo, a magical woman who runs a grocery store in inner-city Oakland. Tilo has profound knowledge of the uses and powers of various spices and uses that knowledge to help her customer overcome life's various obstacles. Divakaruni creates a magical world around the different communities and individuals that come into Tilo's story using Indian and International myths, which she will continue to explore in her later works.
The novel was made into a film by Bend it Like Beckham directors Gurinder Chadha and Paul Berges. Miss World 1994, Aishwariya Rai, played the role of Tilo.
Awards:
Los Angeles Times: Best Books of 1997
Shortlisted for The Orange Prize (1997)
California Arts Council Award (1998)
Seattle Times: Best Paperbacks of 1998
Reviews:
"The Mistress of Spices becomes a novel about choosing between a life of special powers and one of ordinary love and compassion. If Tilo's choice is rather predictable, the way Ms. Divakaruni gets us there is anything but." (The New York Times Book Review)
"Divakaruni's prose is so pungent that it stains the page, yet beneath the sights and smells of this brand of magic realism she deftly introduces her true theme: how an ability to accommodate desire enlivens not only the individual heart but a society cornered by change." (The New Yorker)
"The Mistress of Spices is a dazzling tale of misbegotten dreams and desires, hopes and expectations, woven with poetry and storyteller magic." (Amy Tan, Author of The Joy Luck Club)
Sister of My Heart (1999)
Sister of My Heart became a national bestseller and was translated into over twenty languages. It is the story of two women, Anju and Sudha, cousins and best friends. The women belong to an upper-caste family and are almost opposites in terms of beauty and personality. The novel explores the development of these women, their transformations after marriage, and their separation when Anju moves to California with her husband and Sudha stays in India. The story is powerful in that it explores family relationships and the power of friendship that reunites friends especially in tragedy.
The novel stems from the short story "The Ultrasound" from Arranged Marriage; it was made into a popular television drama in the Tamil language.
Reviews:
"Ms. Divakaruni emphasizes the cathartic force of storytelling with sumptuous prose…she defies categorization, beautifully blending the chills of reality with rich imaginings." (Wall Street Journal)
Like the old tales of India that are filled with emotional filigree and flowery prose, Divakaruni's (The Mistress of Spices) latest work is a masterful allegory of unfulfilled desire and sacrificial love. It is also an intricate modern drama in which generations and castes struggle over old and new mores. Anju and Sudha are cousins, born in the same household in Calcutta on the same day, which is also the day on which their mothers learn that both their husbands have been killed in a reckless quest for a cave full of rubies. Sudha grows up believing her father was a no-good schemer who brought ruin on his cousin, Anju's upper-class father. As they mature, Anju dreams of college, Sudha of children, but arranged marriages divide and thwart them. Anju adjusts to life in California with a man who lusts after Sudha; Sudha grapples with a mother-in-law who turns to the goddess Shasti to fill Sudha's barren womb rather than to a doctor for her sterile son. Ultimately, the tie between Anju and Sudha supersedes all other love, as each sustains painful loss to save the other. When Sudha learns the truth about her father and no longer needs to right his wrongs, she sees that all along her affection for Anju has not been dictated by necessity. An inspired and imaginative raconteur, Divakaruni is sure to engender comparisons with Arundhati Roy (The God of Small Things), but Divakaruni's novel stands in its own right as a compelling read. If her prose sometimes veers toward the purple, her mesmerizing narrative sustains it well. Agent, Sandra Dijkstra; author tour. (Publishers Weekly)
The Unknown Errors of our Lives (2001)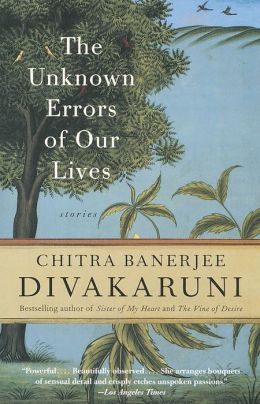 The Unknow Errors of our Lives is Divakaruni's second collection of short stories. The collection includes "Mrs. Dutta Writers a Letter" which was first published in The Atlantic Monthly in April 1998. This short story is about the migration of an aged woman to be with her son and grandchildren in the United States. Publication in The Atlantic Monthly after her success with Arranged Marriage and The Mistress of Spices confirmed Divakaruni as a well-reputed fiction writer. It was included in Best American Short Stories, 1999.
In this collection, Divakaruni illuminates the transformations of personal landscapes, brought about by the choices men and women make at every stage of their lives in both India and America.
The stories include "Love Of A Good Man," a tale of a happily married Indian woman who must confront her past when her long-estranged father begs to meet his only grandson; "The Blooming Season For Cacti," where two women, uprooted from their native land by violence and deception, find unexpected solace in each other; and the title story, where an artist faced with her fiancé's past a week before her wedding must make an important decision. "The Lives of Strangers" was included in the 2003 O'Henry Prize Stories.
Other stories included in The Unknown Errors of our Lives are: "The Intelligence of Wild Things," "What the Body Knows," "The Forgotten Children," "The Unknown Errors of Our Lives," and "The Names of Stars in Bengali."
Awards:
Reviews:
"Mrs. Divakaruni's stories are as irresistible as the impulse that leads her characters to surface into maturity, raising their heads above floods of silver ignorance." (New York Times Book Review)
"A current of compassion and heartache runs through this remarkable collection-from old immigrant conundrums Divakaruni has spun something wondrous and new; she has created the stories that we will require in this Age of Diasporas. Divakaruni is a brilliant storyteller; she illuminates the world with her artistry; and shakes the reader with her love." (Junot Diaz, Author of Drown)
"Her literary voice is a sensual bridge between worlds. India and America. Children and parents. Men and women. Passion and pragmatism." (USA Today)
"Sensuously evocative…image-filled prose…intensely touching tales of lapsed communication, inarticulate love and redemptive memories." (Publishers Weekly)
Neela: Victory Song (2002)
Neela: Victory Song is Chitra Divakaruni's first historical-fiction and children's book. Set in 1939 during India's revolution for independence from Great Britain. Even though the twelve-year-old Neela will soon be betrothed, she goes to Calcutta to find her father after he was imprisoned for marching against British rule.
Divakaruni's book is part of the Girls of Many Lands series, featuring books and dolls based on young girls from various historical periods and cultural traditions.
This novel was published as Victory Song in 2007 in India by Penguin Books.
Reviews:
"In 1939 India, 12-year-old Neela's interests begin as local: her sister's wedding, learning new music from a traveling musician. When a group of freedom fighters needing money interrupts the wedding and robs the guests, everything changes. Her father goes to join a protest march in Calcutta and soon Neela, disguised as a boy, follows. Chitra Divakaruni juggles two difficult goals: presenting the story of Indian independence and presenting it as a 12-year-old might have seen it. Some parts of the plot are independence-related; others relate more to questions 12-year-olds might have, about arranged marriages or the education of girls, for instance. The short period covered means Neela's experiences are intense, but readers don't learn more of the path to nationhood. Still, this entry in the "Girls of Many Lands" series is a good opening note." (Chicago Tribune)
The Vine of Desire (2002)
Vine of Desire is the sequel to Sister of My Heart. Divakaruni continues the story of Anju and Sudha, the two young women at the center of the previous novel. Anju and Sudha rekindle their friendship in America; providing each other with the support they both need. Anju is strengthened to pick up the pieces of her life after a miscarriage, and Sudha gains the confidence to make a life for herself and her baby daughter, Dayita, without her husband. The women's bond is shaken to the core when they must confront the deeply passionate feelings that Anju's husband has for Sudha. Meanwhile, the unlikely relationships they form with men and women in the world outside the immigrant Indian community as well as with their families in India profoundly transform them, forcing them to question the central assumptions of their lives.
The Vine of Desire was recognized by Los Angeles Times and San Francisco Chronicle by being included in the Best Books of 2002.
Reviews:
"Divakaruni is gifted with dramatic inventiveness, lyrical, sensual language, the ability to interweave many points of view with ease…The Vine of Desire offers many delights." ( Los Angeles Times )
The Conch Bearer:
Book 1 of the Brotherhood of the Conch (2003)
The story opens in a poor section of Kolkata, where 12-year-old Anand—named after one of Divakaruni's sons—is entrusted with a conch shell imbued with mystical powers. Anand's task is to return the shell to a place high in the mountains. Divakaruni's second novel for children is the first in an adventure trilogy. The Conch Bearer was nominated for the Bluebonnet Award, in 2004 and also included in Best Books of 2003 by Publishers Weekly.
Book 2: The Mirror of Fire and Dreaming (2005)
Book 3: Shadowland (2009)
Review- The Conch Bearer:
"Divakaruni keeps her tale fresh and riveting with details of India's smells, sights and tastes, with characters that possess both good and evil, and with her exploration of the fine line between faith and magic, Young readers can only hope for more from this master storyteller." (Publisher's Weekly, starred review)
Review- The Mirror of Fire and Dreaming
"Offers the flavors, sounds, sights, and stories of past and present Bengal….Fans will be looking for another adventure, promised to follow." (School Library Journal)
Review- Shadowland:
"In this conclusion to the trilogy, Divakaruni continues to explore the values of honesty, family, and responsibility. Readers are likely to find his narrative heavy-handed, with a strong moralizing tone. The characters are robotic in their behaviors, but they are only there to deliver lectures on the author's core values anyway. Both action scenes and suspenseful moments are competently done, but there is no sophistication within those passages. Dialogue is choppy at best, and may be too advanced for the targeted audience. Fans of the series will appreciate Anand's adventure, but new readers will be puzzled by the relationship between the young Healer and the mystical conch."
(Chris Shoemaker, New York Public Library. School Library Journal)
Queen of Dreams (2004)
The novel reverts back to the theme of magic first introduced by Divakaruni in The Mistress of Spices. Queen of Dreams is a story about Rakhi, a young artist and divorced mother living in Berkeley, California. She is struggling to keep her footing with her family and with a world in alarming transition. Her mother is a dream teller, born with the ability to share and interpret the dreams of others, to foresee and guide them through their fates. Rakhi find solace in the dream journals her mother leaves behind after the death, opening the doors to her mother's long-closed secret past. Rakhi's daughter shares in that vision, allowing the story to cover three generations of Indian-American women and the different trials they face. Caught beneath the burden of her own painful secret, Rakhi's solace comes in the discovery, after her mother's death, of her dream journals, which begin to open the long-closed door to her past.
Divakaruni makes the story truly American by setting it near the September 11, 2001 terror attacks; discussing the complexities of their acculturation.
Reviews:
"Poet and novelist Divakaruni stirs up a tasty curry that's half-mystery, half fantasy in a clever tale of a young woman trying to sort out the mystery of her mother's death-and life. Richly textured and artfully told through the varied perspectives of believable characters." (Kirkus Reviews)
Spiked with elements of mystery, suspense and the supernatural, Divakaruni's sixth novel is a pleasantly atypical tale of self-discovery. Rakhi, a single mother and struggling artist living in Berkeley, Calif., has always been vaguely aware of her own mother's unusual gift—the ability to interpret dreams. Between juggling a laundry list of other priorities—keeping her floundering tea shop afloat after a Starbucks-esque supercafe moves in across the street, battling her ex-husband for their daughter's affections, finding her artistic voice—Rakhi longs to know more about her mother's past and her own hazy Indian heritage. After a mysterious car accident claims her mother's life, Rakhi, with her father's help, sets out to decipher Mrs. Gupta's dream journals in hopes of unlocking the secrets of her peculiar double life. A shadowy man in white who appears at pivotal moments, a sinister rival and entries from Mrs. Gupta's dream journals all punctuate this cleverly imagined tale of love, forgiveness and new beginnings. Meanwhile, September 11 disrupts Rakhi's search for identity, and a vicious attack on her friends and family calls their notions of citizenship into question. Divakaruni (The Mistress of Spices; Sister of My Heart; etc.) does a good job working current issues into the novel and avoids synthetic characterization, creating a free-flowing story that will captivate readers. (Publishers Weekly)
"Magical. In lyrical, poetic prose, Divakaruni manages to be hopeful without offering false reassurances, showing how identity — both individual and communal — is equally shaped by loss and creation." (San Francisco Chronicle)
The Palace of Illusions: A Novel (2008)
Reviews:
"An intimate, feminine portrait that is both contemporary and timeless; an ambitious project effectively executed." (Kirkus)
"The Palace of Illusions by Chitra Banerjee Divakaruni is as sprawling and bright a gem as the Hope Diamond – a mythic tale brimming with warriors, magic and treachery (and its brother, deceit)…. Who better to attempt the feat of transforming a centuries-old cultural icon into a personal, modern story than Divakaruni, a professor of English at the University of Houston and author of numerous award-winning works, including the luscious novel The Mistress of Spices and the bestselling Sister of my Heart. Divakaruni's sentences dazzle; the images she creates are masterful…." (Los Angeles Times)
One Amazing Thing (2010)
This is Divakaruni's first experiment with a true interweaving of multiple cultures into one story. One Amazing Thing is a novel set in an Indian Visa office, with different people trapped together, waiting for rescue, after a California earthquake. The stories are the ones that the characters decide to share, one by one; not sure if they will survive, they share their deepest secrets in their stories, their one amazing thing.
One Amazing Thing is in the early stages of being made into a film. It has earned recognition from many readers as well as universities that have selected it as their campus reading choice.
Reviews:
"Her fiction is so intimate that it often seems as if cultural context is irrelevant. Her character's dreams and disappointments are paramount…The karmic energy of "One Amazing Thing" revolves around Divakaruni's gifts as a novelist." (Seattle Times)
"Writing with great sensitivity, Divakaruni presents snapshots that speak volumes about the characters, so unexpectedly drawn together. Highly recommended." (Library Journal)
Oleander Girl (2013)
Chitra Divakaruni's latest novel, Oleander Girl, was made available in March 2013. The story revolves around Korobi, an orphaned seventeen-year-old who travels to the United States when she discovers a family secret upon the death of her grandfather. Leaving behind her affluent fiancé and his family Korobi must make life-changing decisions on her own.
A detailed book review coming soon!
Grandma and the Great Gourd (2013)
Divakaruni's first picture book is a retelling of a Bengali folktale she heard from her grandfather as a child.
Poetry
· Dark Like the River. (1987)
· The Reason for Nasturtiums (1990)
· Black Candle (1991)
· Leaving Yuba City (1997)
· Indian Movie, New Jersey
Anthologies
· Multitude:Cross Cultural Readings for Writers (1993)
· We Too Sing America (1997)
· California Uncovered: Stories for the 21st Century (2004)
Other Awards:
· 1997: The
Allen Ginsberg
Poetry Prize and the
Pushcart Prize
for poems in Leaving Yuba City: New and Selected Poems
· 2007: Distinguished Writer Award from the South Asian Literary Association
· 2008: University of California at
International House Berkeley
Alumna of the Year Award
· 2009: Cultural Jewel Award from the Indian Culture Center, Houston
· 2011: Light of India Jury's Award for Journalism and Literature
Chitra Divakaruni's Website:
Connect with her on Facebook: